Water-based Adhesive (Low viscosity)/ WPU-70-17GLW
Model No.

WPU-70-17GLW

Made in

Taiwan
We Supply PU Production Equipments
Spec
Use:Fiber & Garment,Footwear & Leather
Key Features
Water-based Adhesive (Low viscosity)/ WPU-70-17GLW
Advantage
Solid Content: 50±2%
Viscosity: < 1000 cps (VT-04/25℃)
High bonding strength
Long tack time and pot life
Excellent water, yellowing and heat resistance
Easy operation
Application
WPU-70-17GLW is suitable to be used as shoe adhesive for bonding RB, leather, phylon, synthetic, PU foam, etc. It can add thickener to increase the viscosity. It can add 3% - 5% Hardener.
Physical Property
Appearance
Milky white dispersion
Viscosity
< 1000 cps (VT-04/25℃)
Density
Approx. 1.10 g/cm3
Minimum Activation Temperature
55-65℃(CNS method)
Softening Temperature
90-110℃(CNS method)
Solid Content
50±2%
Main Component
PU resin
Co-solvent
Acetone below 3 %
pH
7.5±1.5
Tensile strength
Above 400 kg/ cm3
100% Modulus
60±10 kg/cm3
Notice: These values are based on the test of our present laboratory test specimens.
Characteristic
1. Long tack time, great bonding strength.
2. Long pot life, easy to use.
3. Great water, heat and yellowing resistance.
4. Water is used as diluent, and low environmental pollution.
Process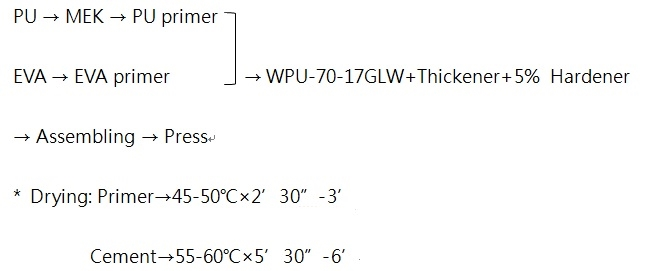 Notice
The containers must be kept tightly sealed, otherwise evaporization of water leads to the formation of a film which is not redispersible.
Temperature above 40℃ must be avoided.
The product is sensitive to frost, and must therefore not be stored at temperature below 5℃. It's not possible to thaw the product after freezing.
WPU-70-17GLW can be stored at 5-40℃ for 6 months in original sealed containers.
Packing
20kg/pail or 200kg/drum.
****We cordially invite you to access our following website to know more about our
water based adhesive - https://www.taiwanpu.com/productInfo/Water-based Adhesive (For Shoes-Economical grade)/Water-based Adhesive (Low viscosity) WPU-70-17GLW
Payment Details
Payment Terms:DA ,TT ,L/C ,PayPal
---
You may also like