Printing Roller Material
Model No.

RWCA-28A

Made in

Taiwan
Your PU Factories in Taiwan
Spec
Viscosity (CPS/ 40℃) :3500-8500
Hydroxyl value (mg KOH/g) : 59 ± 3
Acid value (mg/KOH/g) :1.5-2.5
Color (APHA) : 400 ↓
Key Features
+ Printing Roller Material
+ PU Casting Material for Printing Roller
Application
Ink rollers, printing rollers, electronic industry and other industrial materials.
Technical Product Data
Hydroxyl value (mg KOH/g)
59 ± 3
Acid value (mg/KOH/g)
1.5-2.5
Color (APHA)
400 ↓
Viscosity (CPS/40℃)
3500-8500
Processing
Vacuum condition
Vacuum
0 -20 mm Hg
Temperature
RWCA-28A
60℃-70℃
Vacuum time
30-60 MIN
Mixing temperature
RWCA-28A= 60-70℃
TDI 80 = Room temperature
Casting
Mold temperature 80℃. Slowly pour the mixture in mold and avoid air bubble into mold. Then, increase mold temperature to 120℃. Demold time is 3 hours, post curing time is 16 hours.
Physical properties
RWCA-28A (by weight)
100%
TDI 80
8.5%
Hardness (SHORE A)
28A
Tensile strength (kg/cm)
11
Elongation (%)
500
Type
Polyester
Production Processing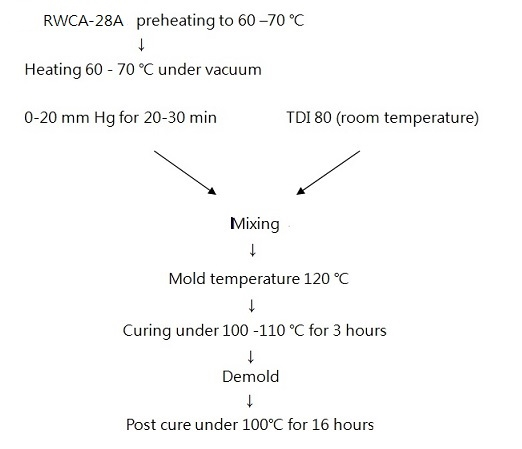 Packing
RWCA-28A: Net weight 18 kgs can / Net weight 200 kgs drum
Storage & Shelf - life
RWCA-28A is supplied in drums or cans. Once a container has been opened, please pay attention to exclude moisture. The most favorable temperature for storage is 20-30℃. The shelf-life of RWCA-28A is 6 months if the temperature is maintained at 20-30℃, and moisture is excluded. The information and data contained herein are believed to be correct. However, no liability is accepted. We preserve the right of revision for this information sheet.

Notice: These values are based on the test of our present laboratory test specimens.
****We cordially invite you to access our following website to know more about our
printing roller material - https://www.taiwanpu.com/product/Printing Roller Material
Payment Details
Payment Terms:DA ,TT ,L/C ,PayPal